Amanda Hayes, Professional Genealogist
Your family genealogy will likely be the greatest mystery novel you will ever read.
Whether searching for ancestors or descendants, each record provides a piece of the puzzle.
Each piece of the puzzle aids in understanding the story of a life.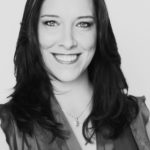 I'm proud to have studied under some of our country's premier genealogists, receiving my Certificate in Genealogical Research from Boston University. I specialize in family lineage research, forensic cases and genealogical problem solving. My geographic focus includes the Midwest and Mid-Atlantic United States and areas in Europe. My research specialties include family migration, immigration, military records and forensic research. I uses a combination of records, social economics and historical events to research and bring to life the stories of ancestors. From visiting an archive to searching online resources, my passion is to reconnect families with their ancestors. A journey which is typically a very fulfilling experience. I also accept Forensic Genealogy cases.